EMR's parts & distribution team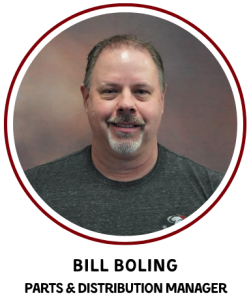 provides parts and equipment to commercial kitchen customers. Our factory relationships and experienced technical staff make EMR a leader in the marketplace. Parts & distribution manager, Bill Boling, filled us in on all things parts – the current supply chain, combating challenges, what is working and most importantly, keeping a customer-first mindset.
What's changing about the parts landscape – pre-Covid to now?
BB: The supply chain issues have improved greatly. There are still some problems that did not exist pre-Covid, mostly related to equipment and computer/controller issues, but overall, it has gotten much better. Parts pricing has been very fluid and consistently changes. Pre-Covid, manufacturers published price increases once annually. Now, many publish multiple times throughout the year.

How have these changes affected EMR and other independent service companies?
BB: Due to the recent improvement in supply chain issues, we are able to provide quicker delivery and response times since our parts are arriving faster. With more parts available, we are having more success with the sourcing of backordered parts.
What is your team doing to combat some of the challenges?
BB: We have always sourced parts with extended backorders, but are having more success now than we were the previous two years. We continue consistent, scheduled expediting of our PO's in order to give our customers accurate ETA's on their needed parts. The challenge of keeping up with pricing increases and shorter quote expirations from our vendors still exists. We have constant oversight on open documents, and consistent communication with vendors and manufacturers to ensure up-to-date pricing.
What do you think your customers biggest pain points are in the parts sector of commercial kitchens?
BB: Customers always need their equipment running whether it's sales or service. Backordered parts = downtime = lost revenue and production. Their pain is pretty obvious.
How is EMR differentiating themselves from other parts suppliers to the end user?
BB: Our relationship building and the excellent customer service we provide separates us from our competition. We can work with customers on an individual basis, not categorized as part of a larger group or dollar figure, and meet their unique needs with this one-to-one, personal approach. Our direct sales team is a cohesive, seasoned group. We strive to find out what our customers' concerns and needs are and use our experience to provide the best customer service possible. We are local to the mid-Atlantic area, which means faster delivery times, less freight charges, and the ability to pick up at one of our four locations, same day or within one day shipping time.
What might a customer NOT know about our parts and equipment offerings?
BB: We are able to supply parts for over 275 manufacturers. We can quote many types of equipment for direct sale and offer competitive pricing. In stock parts ship same-day if an order is placed by 3:00 EST.
Click here for more information on our parts and equipment offerings.