Managing a restaurant kitchen is so much more than overseeing the staff and placing food orders. All of the equipment, systems, and services in a commercial kitchen require routine maintenance. After all, your business is reliant on the performance of it. To ensure an efficient and smooth service from one our of expert technicians, it's important to remember these tips when placing your service call.
Slow down.
Take your time. We understand that you may be frustrated and anxious to get your down equipment repaired. We don't blame you! Taking a deep breath and speaking clearly to give accurate information will be worth the few extra minutes of your time.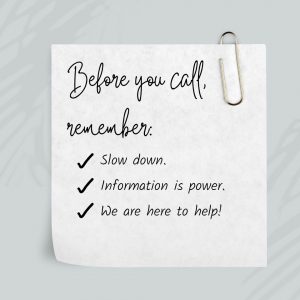 Information is power.
EMR dispatchers, Stephanie Carter and Tom Quigg, pointed out the most important things to remember when placing your service call.
First state the name and address of the location, then explain what is needed for service.
Knowing the equipment model and serial number is a huge plus.
Have a credit card on hand or the last four digits of the card (in the instance we already have it on file).
Provide the best contact person for our tech to communicate with throughout the repair process.
Tell us the best time to service the equipment. If you are a breakfast operation and a griddle is down, it might be wise to schedule a service later in the day to avoid a tech working in the middle of a breakfast rush.
We are here to help!
Our business is caring about your business. From the time you make your first service call to the end of service, we are with you every step of the way to keep you informed on our progress. Getting your business back up and running is what we are here for! Putting a schedule in place for maintenance, and sticking to it, is one of the best things you can do to keep your kitchen running efficiently and safely with the highest quality of food and service. Similar to regular maintenance on a car, planned maintenance for your commercial kitchen equipment can extend the life of your kitchen equipment for many years. Set up your maintenance schedule today!