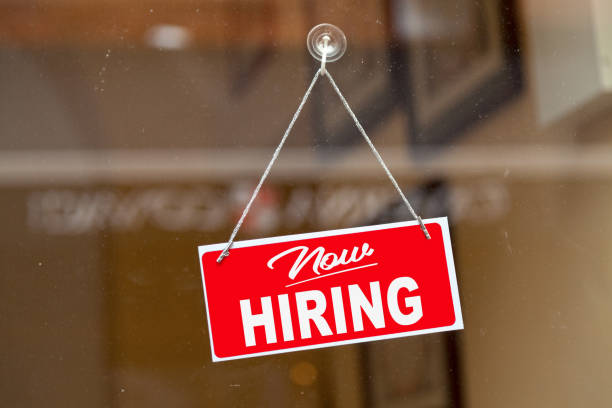 Unless you've been living under a rock, you already know that "Now Hiring" signs live on the doors of most restaurants across the country. The average restaurant today is between 25-40% understaffed. Karen Stauffer, Senior Director of Communication & Strategy at the Delaware Restaurant Association, described it as the perfect storm.
The entire Summer of 2020, the Delaware restaurant industry was facing heavy restrictions and operating at 30% capacity, mainly consisting of takeout and delivery. Fast forward nine months to May 21, 2021, and Delaware was back to full capacity and no mask mandates. "People were excited and ready to sit down in their favorite restaurant, just in time for Memorial Day weekend," said Stauffer. Unfortunately, it wasn't as easy as flipping the front door sign to open and inviting customers inside.
Operating at a lower capacity for 14 months had a handful of side effects that needed to be worked through:
• Less food was being prepared, less staff was needed
• Down kitchen equipment had been off for over a year and required major cleaning and repairs
• Limited seating and staff meant limited menu options
• Rehiring staff, scheduling, updating menus/prices grew critical
While restaurants can now operate at 100%, many are doing that with only 50% of their normal staff, which is forcing them to restrict their hours and/or days open. Finding qualified staff willing to work has been one of the biggest challenges to recovery.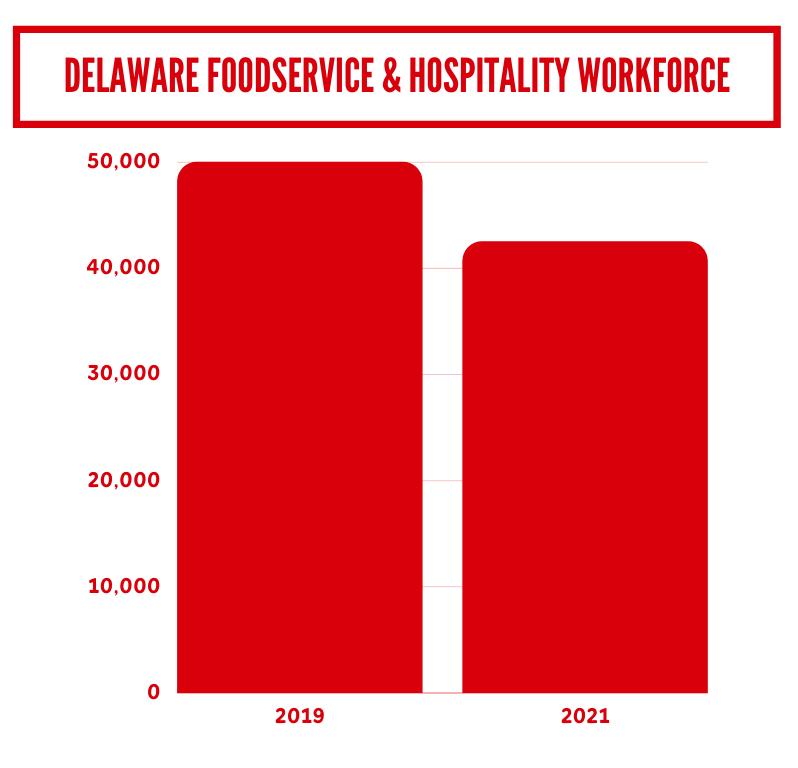 Prior to 2020, Delaware was operating with 50,000 individuals in the foodservice and hospitality workforce. Today there is a deficit of 15%.
There are a few theories as to why restaurants can't find enough staff to hire.
Did people grow comfortable on unemployment checks?
Did parents need to stay home with children for ease of virtual schooling?
Did restaurant workers find new jobs in different industries for better pay?
Being short staffed means longer wait times, even if there are six open tables in the restaurant. Some customers seem to expect complete normalcy despite the shortcomings and challenges on the operator. A handful of restaurants and organizations have taken to Facebook and other platforms, offering advice and dining etiquette for customers to keep in mind as they head out to their favorite bar or restaurant. Rehoboth Beach Main Street started a Respect Rehoboth Campaign, encouraging visitors to be patient as many merchants are experiencing staffing issues. Unfortunately, working long hours and double shifts has been the norm. Similarly, Maryland Tourism Coalition's, Ruth Toomey, found herself galvanized to prepare travelers for the unexpected, pushing a #PackYourPatience campaign that aimed to remind tourists and locals alike that restaurant staff and operators are up against a list of unprecedented road blocks stemming from COVID-19.
Restaurant owners have had to come to terms with the fact that losing business with shorter hours and work weeks, outweighs the risk of losing their staff due to them being overworked and unhappy. One Delaware restaurant declared an "employee mental health day" to take the staff to the beach. Another is strictly following a 5-day work week with two days off for all employees to avoid burn outs. "They [restaurants] have to take care of the staff that they do have and make it a great place to work," said Stauffer. The key is offering incentives, bonuses, higher wages and benefits in order to find good workers and keep them around for the long term, she added.
Here are a few tips to remember when dining out at your favorite restaurant:
• Tip your servers! Things are rocky for hospitality workers, so it's a good idea to remain as generous as possible with your tips.
• Check websites for any restaurant information or new protocols/mandates they may have in place. Some restaurants adjust their hours on a day-to-day basis based on staffing. Know before you go and arrive with the right mindset.
• Make a reservation if possible. If you have a specific place you wish to dine, reserve a table to increase the chances you get a spot when you arrive.
• Be understanding, empathetic, and patient. Servers are humans, too, deserving of respect. Remember, most of the challenges they are facing are out of their control. And yours! Packing your patience could be the catalyst for enjoying your outing.