It's no secret the skilled labor shortage in the United States is a very real problem. As the industry looks toward the younger generation, organizations need to take it upon themselves to provide resources, guidance, and assistance to help students get their foot in the door and understand the benefits of pursuing a career in the trades.
To understand more, we spoke with two industry advocates working in different ways to break down barriers and provide access to the trades. Keep reading for some interesting perspectives on their efforts to keep the trades alive.


Q+A with Greg Smith
Q: When and how did the B-A-T Program begin?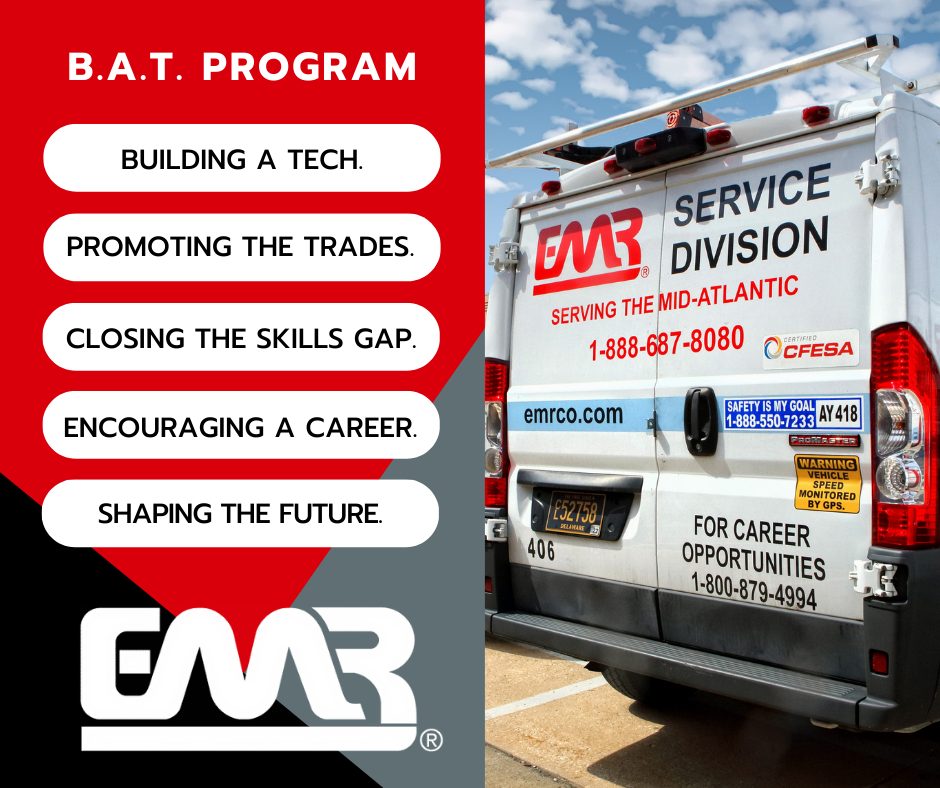 GS: EMR has always had in-house classes for our techs. In 2007, we ran a program called EMR Institute, which focused on hot-side equipment repairs, resulting in some lasting, solid technical careers (including two techs who still work for EMR!). CFESA then rolled out a self-help program for companies to develop their own in-house training curriculums. Inspired by this, and using CFESA's Hot Side Training Manual, I started EMR's first in-house program, which yielded five top techs, also still with us today. The well dried up for a couple of years, which could have been due to lack of interest and awareness of trades, but more recently the success of the aforementioned techs inspired a new start, which led to the launch of the B-A-T Program. To date, we have had 10 individuals complete the program and currently have 4 individuals enrolled.
Q: What is the impact of offering this training?
GS: The impact of the B-A-T program is at least three fold – it contributes to EMR's longevity, effects the future of this specific trade and provides opportunity for long lasting careers. Personally, this is my way of paying it forward. When I began my career, I received training and mentorship, too, that had a lasting effect. Identifying the next generation, teaching them skills and providing them with new opportunities, builds a strong, dedicated technical force. The B-A-T Program allows individuals to grow technically and do productive work early in their career. It also benefits EMR, as qualified graduates can join our field service workforce.
Q: What should a prospective trainee expect?
GS:
Prospects interview with operations managers to determine their mechanical aptitude, motivation, and positive attitude that will make them a good fit to ultimately join the EMR team.
Day 1 the student is a full-time employee of EMR, with all associated benefits. From there, attendance, participation and improvement are monitored through a probationary period. Continued employment is the goal once the training commences.
The B-A-T program is 17 weeks long, teaching the basics of hot-side equipment, intro to refrigeration, and planned maintenance training.
Q: Can you get more specific about the trainings included in the program?
GS: Classroom training includes:
Electrical theory, basic wiring technique, electrical components, and troubleshooting
Gas theory, gas components, troubleshooting, piping and intro in gas fitting and troubleshooting
Steam equipment theory, steam components and troubleshooting
Safety training
Customer service training
Introduction to refrigeration
Troubleshooting techniques and wiring diagrams
Planned maintenance overview and tools/techniques
Q: What is your favorite part about the program?
GS: Through my years of training, I have had the absolute joy of watching mechanically inclined trainees go from no experience to evolving into highly productive, successful technicians. This program allows me to participate in their growth and continue to have that same enjoyment. I think of them as if they were my own kids and I'm very proud to watch them grow and succeed.
---
Q+A with Josh Zolin
Q: What led you to a career in the trades?
JZ: My dad started a kitchen equipment repair company while I was working as a stuntman in Hollywood. Ultimately, what I thought was my dream, turned out to be more of a nightmare. I wasn't enjoying the direction I was headed, nor was I confident I could be fulfilled. Although I wasn't raised with a blue-collar background per se, I always enjoyed working with my hands, problem solving, and genuinely helping people. On top of a burning desire to be a hell of an entrepreneur. I called my dad and asked if he could teach me the trade in hopes of turning his one man show into a national powerhouse. The rest is history.
Q: What is your favorite part about the trade industry?
JZ: The people. Hands down. Every once in a while, you'll come across a real tool (pun intended) but that's in any industry. By and large, the trades are full of intelligent, hard-working, authentic individuals all sporting a heart of gold. These are my people. And also, who motivate me to advertise this industry.
Q: Why do we need to keep pushing the skilled trades onto the younger generation?
JZ: The skilled trades shape civilization as we see it today. Unfortunately, people are retiring from these industries faster than they're entering them. Which means higher costs for service and slower growth of society as a whole. So, number one, is the industry needs it.
Number two is that there is a common misperception that these industries are low-level and sub-par to any career that requires a college degree. Nothing could be further from the truth. There is more opportunity in these industries than ever before, not to mention an extreme culture shift as the younger generation takes over these businesses. People need the trades as much as the trades need people.
Q: How can others support and promote the trades?
JZ: 1) Talk about them. 2) Watch HOW you talk about them. Talk with pride, reverence, and admiration. Don't look down on the plumber because he gets dirty. Look up to him because he keeps your water clean. Tomorrow's perception of the trades begins with today's conversations.
Q: What advice would you give a high school senior that is trying to decide between college or a career in the trades?
JZ: Question everything. Don't settle for college just because people tell you that's what you SHOULD do. Explore all avenues. Be practical in your decisions (taking debt into consideration). And really think about how you are most fulfilled. Only you can decide how you define success. Not your teachers, counselors, or even your parents. Whatever you do, keep moving forward and never settle for less than your best no matter where you end up. Let's go to work.