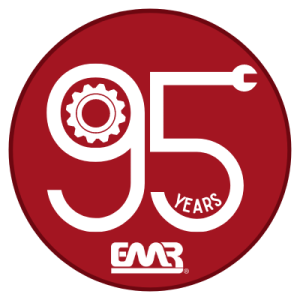 To EMR, 2022 is more than just a new year. It's the mark of an important milestone for us – 95 years as a successful and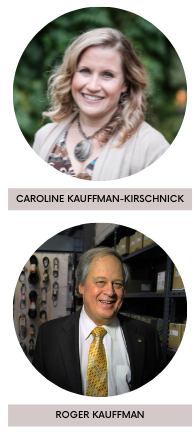 growing business. We know from the U.S. Bureau of Labor Statistics that only 36% of companies last 10 years and about 21% survive to see their 20th anniversary. Beyond that, the U.S. Census Bureau reports that only about 12% of companies are older than 26 years. Clearly, we have something that deserves celebrating!
But what exactly does it take to achieve this impressive and remarkable statistic? We sat down with EMR president, Caroline Kauffman-Kirschnick, and immediate past president, Roger Kauffman, to find out.
Let's start with the most important question. To what do you attribute your success to remain in business for 95 years?
Caroline Kauffman-Kirschnick: "Strong core values that have been passed on for three generations. Values that we have instilled culturally into everything we do. Values that we require all of our employees to live by, uphold, support and promote.
We give our people the autonomy to make decisions because we know if they put any question or situation up against our values, code of conduct and customer service pledge, they will make the right call. Our values are based around caring for people – those who work for EMR and those we do work for. Rooted in a heart of service, we focus on caring for others, which naturally leads to financial stability. On the flip side, a primary focus on finances, does not often lead to caring for others. We believe in the givers gain. If we focus on quality and care, integrity and accountability, taking ownership and asking 'how can we', financial soundness will follow. Our statement of values was written with financial soundness and profitability intentionally last on the list. We believe if we uphold the preceding pillars, financial soundness will fall in step. I think 95 years is a pretty good run to prove we are onto something."
---
How do you measure success at your company?
Caroline Kauffman-Kirschnick: "Employee and customer retention.
We proudly retain staff with extensive years of employment. Currently, our longest tenured employee is coming up on his 59th year, and almost 1/3 of our nearly 200 person staff has been with the company for 15 years or more. Our customer relationships mirror this accomplishment as well, with some partnerships pushing 10, even 20+ years in the making. We focus on morale, employee and customer satisfaction, internal and external engagement programs, and most importantly – how much money we can give back to employees in bonuses and benefits."
---
What are some of the character traits common amongst successful family-run businesses?
Caroline Kauffman-Kirschnick: "Open, honest, transparent, and respectful communication among employees, but especially the family member employees.
Leadership must inhabit the ability to actively listen. This character trait shows a willingness to understand and see others' perspectives even when you disagree. Transcending the family dynamic into a professional relationship requires ongoing participation from everyone involved. You can never really separate the family from the business but it is critical to create boundaries, identify code words, and designate spaces to operate as clearly as possible in "family" mode or "work" mode. The lines might be forever blurred, but success is possible when there is self awareness. Identifying what hat you are wearing, what hat is appropriate, is critical. When I was in the thick of succession planning with my father, we learned in this way to gently ask for what we needed from each other while jointly making large business decisions. At the basis of it all, believing in the same core values, purpose, direction and 'why?' of the business, while sharing the common desire and true passion to continue the family legacy has been the key to our success."
Roger Kauffman: "There are disciplines and practices that have to be in place in order for a family-run business to function successfully.
Leadership must engage others in business decisions – family members or not. It's not, 'my way or the highway'. The owner has the final say many times but others in the company should feel confident providing input from their perspective. A good owner will consider the experience and knowledge others bring to the organization before making final decisions. In many instances, the staff is more qualified and specialized. Giving them a seat at the table creates a culture of inclusivity and transparency for a business to thrive. This is even more critical in a family-run business environment."
---
What was the biggest challenge you have faced running EMR, and how did you overcome it?
Roger Kauffman: "Figuring out how to run the business in the absence of a succession plan from my father.
Even with my Bachelors of Science in business management, I was not properly groomed to take over the company; I wound up there when my father retired. Soon after the takeover I quickly came to the realization I could not single handedly run the whole show. My goal was to grow the business and I needed the right leadership by my side to achieve those goals. I knew I could not do it alone. I identified the key subject matter experts to give real authority to and assist with running various parts of the company. With a lot of teamwork and my general oversight we were able to accomplish the growth and profit goals that I had established."
---
What do you look for when hiring the right employee?
Caroline Kauffman-Kirschnick: "Personalities and character that fit our culture.
The most important thing we look for in a new hire are people whose values align with ours. Do they show drive? Enthusiasm? Integrity? A willingness and eagerness to learn? Are they team players? These foundational characteristics must be present, along with clear aptitude for the position even if they don't necessarily have the hard skills to complete the job yet. If they show self initiation, and are willing and eager to learn the rest often falls into place."
---
How is operating a business today the same or different then it was 15 years ago?
Roger Kauffman: "Employees still want to feel they are an important part of the business; that their job matters.
Employees want to be recognized for good work, their effort, and loyalty. What has changed is the work-life balance. In the past, technicians sought out overtime. The imbalance of overtime distribution was often a subject of discussion (e.g. technician A allotted more overtime than technician B). If Christmas Eve was up for grabs, technicians did it because the customer needed it, and it was a bonus to their pay. Today, being home with family on a holiday like Christmas Eve has become a stronger motivator than the extra pay."
---
If you had one piece of advice to someone just starting out, what would it be?
Caroline Kauffman-Kirschnick: "Love what you do.
Do what you have a passion for. In the words of former EMR chief financial officer, our dear, late Doug Corbin – find what makes your heart sing and do that."
Roger Kauffman: "Hire the best people you can find.
Hire people who are smarter than you, make sure you agree on the direction you are going, and be sure to give them the resources and plenty of room to make it happen."