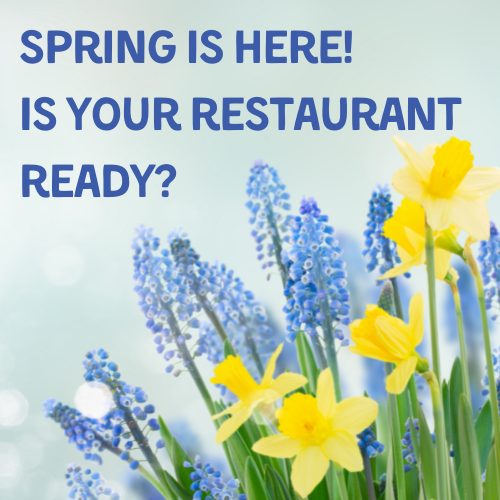 With so many items on every foodservice operator's to-do list, we've highlighted a few spring-cleaning musts to get ready for the surge in spring time business. We all know that commercial kitchens are busy places, and without a solid plan in place for cleaning, things can go by the wayside. The kitchen can get messy quickly as food and dirty dishes come and go. Having clean equipment not only enhances the flavor of food, but also ensures that food is cooked evenly and at safe temperatures. To keep your reputation and folks coming back for more, use these cleaning tips to make sure you are ready to rock and roll this spring!
Stove tops and hoods.
There are many different pieces of foodservice equipment that get used, but none so much as your commercial stove top. Stoves and hoods tend to accumulate a layer of grease over time and you can be sure that bacteria will be there as well. This isn't just going to affect the quality of your food, but it can affect your entire business and significantly increases the risk of fire.
Cleaning Tips:
Wipe up spills as they happen

Remove the burner covers, drip trays, and knobs when cleaning it

Harsh chemicals and abrasives can damage certain surfaces. Refer to your owner's manual when learning what types of cleaning products and utensils you can use

Once a month, pull the stove tops away from the wall and use a degreaser on the back of the stove and wall
Walk-in coolers and freezers.
Whether you operate a restaurant or a supermarket, your walk-in is an important investment. It should be taken care of to ensure many years of efficient usage. Now is the perfect time to do a walk through and inspection. With temperatures rising, these units will be working harder to keep themselves cold. A little maintenance and proper cleaning now can prevent a catastrophe from occurring when that first hot day hits.
Cleaning Tips:
Clean the interior and exterior with warm soapy water
Wipe down the door gaskets with soap and water
Sweep and mop the interior floors
Clean out the condenser
Check for clogged drain lines
Ice machines.
A clean ice machine is vital to your kitchen's success. If you can't remember the last time your ice machine was cleaned, then it is overdue! Since your ice machine creates a consumable food product, food safety and cleanliness are essential. As the days get warmer, your ice machine is going to be working harder. A clean ice machine increases the efficiency and creates a longer lifespan. When the water or air flow system is restricted due to dust, dirt or buildup, the ice machine must work harder to produce the same amount of ice as a clean machine – potentially resulting in service issues. Protect and maximize your investment early this season and get your ice machine inspected and cleaned before the heat of summer hits.
Cleaning Tips:
Periodically sanitize your ice machine
Keep the outside of the machine clean by wiping it with a damp cloth
Change the filter
Descale the machine
Don't ignore clogs
Make sure not to block or obstruct the ice machines ventilation