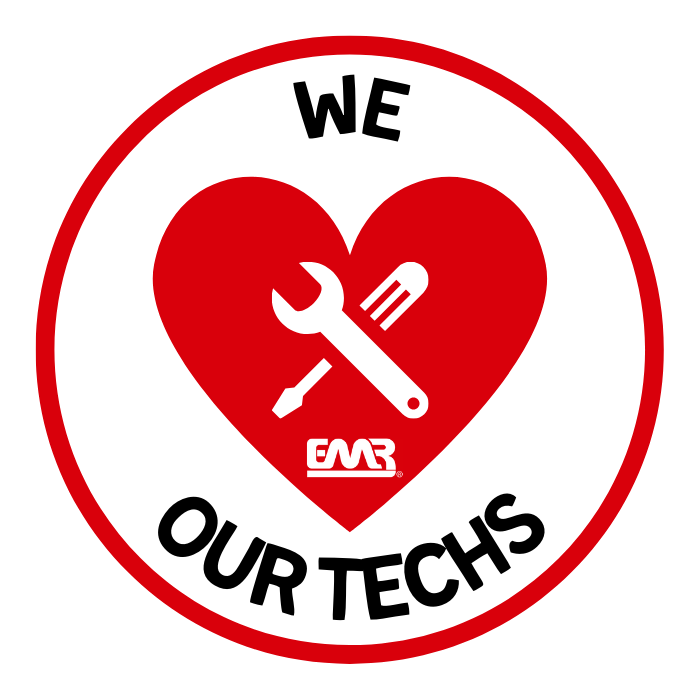 How we're honoring the trades…
National Tradesperson Day calls for the celebration of tradespeople for their commitment to the essential services they provide. We've asked our very own technicians and EMR staffers to share their "why", in an effort to promote the trade industry, while learning about the experiences that brought them to where they are today as essential workers. Feel free to check out these videos and follow us on YouTube, Facebook, Instagram, and LinkedIn for more as we continue these conversations and promote this important effort.
Who are tradespeople?
Tradespeople are a group of professionals who ensure that resources are used correctly and properly maintained for communities to live comfortable lives. It's essential to our comfort and survival. National Tradesperson Day is September 16, 2022, and this year we are honoring the hard-working people who provide these essential services such as plumbers, electricians, mechanics, builders and more.
A community could be stacked to the gills with resources, but it would matter not, unless the people with the right skill sets were there to put those resources to the proper use. So why are trades a solid career choice? We explored some of the reasons why below.
The demand.
Many trades are in high demand as the need for more experienced labor employees continues to grow. According to numbers from the National Electrical Contractors Association, 7,000 electricians join the field each year, but 10,000 retire. There are plenty of open jobs in the trade industry, and not enough workers with the right skills to fill them. This marks a good opportunity for recent high school graduates or anyone looking for a career change to consider skilled trades training. "So many people don't realize the role of the trades. I know many tradespeople that have successful careers and enjoy what they do," said John Salemme, EMR's DCMV Account Manager.
Most would agree that the perception of trades and technical programs needs to change to attract more students. How do we close the skills gap? If your friend, family or student shows interest in joining a trade, encourage them! Reinforce the idea that a trade school doesn't have to be a last option. It is a career that impacts the world.
Job security and good pay.
There is a myth that if you have a college degree, you have a job. The fact is that approximately 53% of college graduates are unemployed or working in a job that doesn't require a bachelor's degree. It takes the average college graduate three to six months to secure employment after graduation. During that time, an individual that decides to go into the trade industry would be making money right off the bat and acquiring the skills and knowledge for a lifelong career with no crippling student loan debt. "I went to a five-year apprenticeship right out of high school. I decided to make money and not go into debt while a lot of my other friends went to college and had a good time but they're still paying off their student loans," said Dave Fitch, EMR's Baltimore Field Service Supervisor.
The trades offer high-demand, sustainable, and fulfilling work. Those who work in the trades experience job security because their work involves solving problems and helping people. When someone can do something that others cannot, that person is essential. The things we rely on to function day-to-day exist because someone builds them, installs them and keeps them going.
Getting started.
Maybe you've had serious thoughts about learning a trade, but you don't know where to start. There are a few different ways to get your foot in the door, some which can be done right in the comfort of your own home. Want to become a carpenter? You should know how to operate power tools. Leaning towards becoming a mechanic? Learn how to change the oil in your car. Once you get a better idea of the trade you want to pursue, it is time to get serious on acquiring your certifications and/or licenses which allow you to make it a career. After graduating high school, most tradespeople will attend some sort of schooling for a year or two, be it a community college or technical school. Some companies in certain industries choose to hire entry-level employees without education and they train them in-house. Others require certifications, an associate degree or a registered apprenticeship before hiring.
Whether you're set on going to trade school or are still exploring your options, knowing how much you could be getting paid for a trade job can be beneficial for planning your future. Here are the highest-paid trade jobs in 2022.