At some point, your equipment will fail and you will have to call in an expert for maintenance. It's an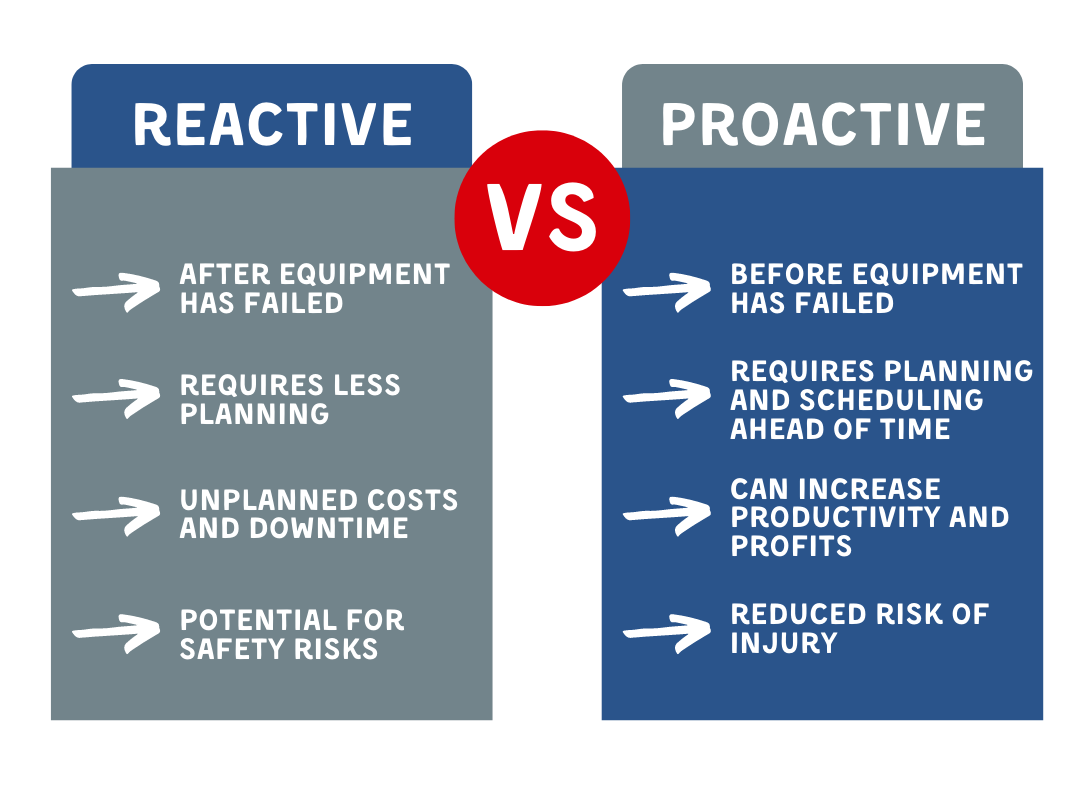 inevitable part of operating a busy commercial kitchen. You might be wondering what type of maintenance will be most beneficial and cost effective for your operation. In general, maintenance falls into two categories: reactive and planned (or proactive). Let us break it down for you so you can determine how to approach a future equipment failure and choose the best option for your operation.
What is reactive maintenance?
Reactive maintenance, unlike planned (or proactive) maintenance, involves responding to equipment malfunctions or breakdowns after they occur in order to restore the asset to normal operating condition. This type of maintenance plan can be beneficial for your operation from a financial perspective, as it takes less time and money to have equipment repaired when needed, rather than performing routine maintenance to prevent the breakdown from occurring.
When reactive maintenance is necessary:
It's the only piece of equipment. A local breakfast joint known for their delicious, hot donuts has a malfunctioning fryer. Unfortunately, it's the only fryer in the operation which means no donuts until the issue is resolved. It's clear that they're in trouble and their reputation is on the line. Calling in a repair company for reactive service would be necessary in this situation.
Significant product loss will occur if the issue is not addressed immediately. It's a hot day in the middle of August and the temperature in a walk-in cooler is on the rise. Food and customer health/safety is now at risk due to contamination. It is imperative to the safety of the customers and the operations bottom line to get this repaired as soon as possible.
The breakdown occurs during a peak time of day. The clock strikes noon and the lunch rush has arrived at a well-known burger joint. Hungry workers on a time crunch arrive and are anticipating their mid-day pick me up only to find out that their ordering options are severely limited due to the grill being down. It might be time to call the repair company to make necessary repairs before you lose your customer base to the competitor next door.
What is planned (or proactive) maintenance?
Planned maintenance allows minor issues to be resolved before developing into major breakdowns. Anything from daily upkeep, cleanings, routine checkups and parts replacements are checked off the list during a PM service. Scheduling a PM helps prevent sudden, unexpected equipment failure that is bound to cause chaos in a commercial kitchen.
Why you might choose a proactive maintenance plan:
Save money in the long run. When a piece of equipment goes down unexpectedly, there are multiple costs involved – repair service, extra time diagnosing the issue, and parts. Planned maintenance can dramatically reduce the risk of these costs.
Rest easy knowing that your equipment is being taken care of. When a professional is onsite inspecting an operations equipment, their staff is able to focus their efforts elsewhere within the operation. Have peace of mind and feel reassured knowing that a trustworthy, knowledgeable expert is performing service to ensure equipment is working at peak performance.
Avoid a small problem turning into a larger problem. When smaller problems are solved while the tech is on site for PM work, it can avoid bigger issues that cause major equipment breakdowns. These issues are not only expensive but can cause a complete shut-down of the kitchen if the problem takes days to fix. When equipment is routinely checked and cleaned, the longer the lifespan will be and fewer emergency breakdowns will occur.
How is your facility operating today? Does planned maintenance outweigh reactive maintenance calls? Each operation will require a different approach to maintenance, but knowing the pros and cons of each can help determine your best option to keep your commercial kitchen up and running.